Gun safes do not get better than this. The Browning Pro Series Pinnacle Safe is a symbol of strength offering security that is unmatched with a heavy-duty body formed from a single sheet of thick 3/16" steel plate for exceptional strength and fire protection. The safe body is formed from a sheet of thick 3/16" steel for exception strength and rigidity. MAX Locking Bolts provide 12 times more surface area, and when combined with Pry-Stop Corner Bolts, result in a safe that is twice as pry-resistant as a safe with round bolts. The Gear Drive Locking System is three times easier to operate. The Pinnacle interior features AXIS Adjustable Shelving, DPX Storage System with NEW Scope Saver and cedar panels on the ceiling and walls for a luxurious look and feel that protects your prized valuables.
SPECIFICATIONS:
Model: Pinnacle 63
Dimensions: 72" x 57" x 26"
Cubic Feet: 63
Weight: 1855 lbs.
Locking Bolts: 16
Gun Capacity: 59 Total (22/46 + 13 DPX)
Features: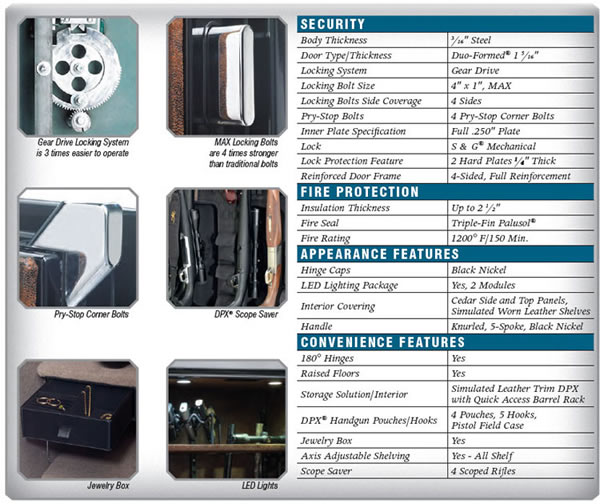 Available Finishes:

Safe Lock Options:

S&G Group II Dial Lock
S&G Electronic
Securam Biometric
More information on available Safe Lock Options. Lock will match hardware color choice.
---
Texas Gold Delivery: Inside placement, debris removal, ground level delivery only.(available for most Texas addresses)
We offer Professional In Home Delivery, performed by our own trained safe delivery technicians, call 800 720 3275 for availability and pricing in your area. The additional online pricing for Texas Gold Delivery service is based on a maximum radius of 100 miles from our store address. In some cases we do offer In home delivery outside of this radius area however, there is an additional mileage charge. This service is only available at the current time in most areas in Texas.
Available Options:
Delivery Options:
Safe Color:
Safe Door Hinges:
Safe Lock:
Safe Trim/Hardware: