This is a READY TO SHIP IN STOCK Liberty Safe. This Safe is for those who do not want to wait for a custom configured safe to be built.
Options Included on this Ready to Ship Safe are:
Gloss Black Finish
Chrome Trim
Dial Lock
Loaded Interior
72.5" x 42" x 32"
Stores up to 41 Guns
---
Security features abound with Liberty's all new DX-90 MONSTER MECH installed on all FATBOY safes. Like the Franklin series, each FATBOY safe includes 25% larger and 33% longer bolts, anti pry-tabs and a new over-center cam mechanism to discouraging punching. Backed by 83,000 BTU fire protection, the Fatboy now has more fireboard than the competition, including 60 minutes @ 1200°F. Liberty's 4-in-1 Flex™ interior with double collector rack provides the ultimate in storage flexibility. Buy a FATBOY today and be secure.
FIRE PROTECTION

Advanced 60 minutes @ 1200°F (which is 15 minutes longer than other competitive models)
83,000 BTU fire rating (3000 more BTUs than Colonial Series)
Thicker 11-gauge Steel increases fire protection and security
3 layers of 5/8" fireboard in ceiling, doorjambs and door, plus 2 layers in all walls
Palusol™ Heat Activated door seal up to 7 times it size to help seal out heat and smoke.

SECURITY

Awarded UL™ Residential Security Container burglary classification
NEW! DX-90 MONSTER MECH, the best Over-Center cam mechanism increases security and thwarts side punching like never before
NEW! 25% larger bolts, now 1.25"
NEW! 33% longer bolt extension with anti-pry tabs. No prying here!
Triple case hardened steel plates protect lock from drill attack
Defensive barrier of FOURTEEN 1.25" diameter locking bolts fortify the door
UL Listed S&G™ Group II lock guards against lock manipulation. D-Drive electronic lock also available.

 
STYLE & FUNCTION

New 3-spoke SURETIGHT handle with Liberty's new SLIP-CLUTCH innovation.
Upgraded with Liberty's popular GRAY MARBLE GLOSS finish.
Upholstered with Liberty's new smooth velour interior, which also includes the Double Sportsman Rack, holding up to 64 long guns (gun capacity may vary depending upon gun size and scopes mounted)
Interior Dimensions: 56 H x 38 W x 20 D

INTERIOR GUN RACK (HUGE 64 GUN CAPACITY)

*Gun capacity may vary depending upon size of guns and scopes
---
Safe Interior: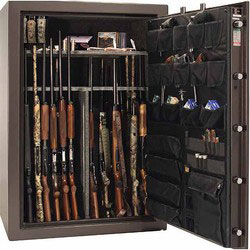 PLEASE NOTE: THIS SAFE IS AVAILABLE FOR DELIVERY WITHIN 5-7 DAYS. DON'T WAIT MONTHS FOR YOUR SAFE, ORDER FROM ABLE'S TODAY!