This is a READY TO SHIP IN STOCK Liberty Safe. This Safe is for those who do not want to wait for a custom configured safe to be built.
Options Included on this Ready to Ship Safe are:
Gray Finish w/ Feathered Edge
Black Chrome Trim
Electronic Keypad Lock
Loaded Interior
72" x 42" x 30"
1565 lbs
---
The National Security Magnum safes are the dream safes like no other. We put all of our experience into making these safes the finest in America.
The best in fire protection, the Magnum Series comes standard with 2.5 HOURS of fire protection and 131,000 BTUs. Open the door and see Liberty's auto on/off lighting system shine, including Liberty's patented 4-in-1 Flex velour interior with new jewelry tray classy styling and organizing valuables. We even throw in our best dehumidifier. Add it all up and what do you get? The Masterpiece!
FIRE PROTECTION

The best in fire protection. 131,000 BTUs and 2.5 Hour fire rating
Ultimate fire & heat protection (4 layers wall, 4 layers ceiling of 5/8" fireboard, 2 layers of 1/2" and 2 layers of 5/8" in door)
Palusol™ Heat Activated door seal expands to seal dooredge protecting contents from harm

SECURITY

NEW GX-480 gear drive mechanism is the best in its class to resist side punching, drilling or punching.
UL™ Certified as a Residential Security Container (RSC) burglary classification
1.5" composite door makes it one of the toughest safes to pry in the industry
Interlocking dead lock system locks bolts in place during extreme attacks
Ball bearing steel hardplate shatters drill bits defeating lock drill attacks
Triple relockers prevent entry from punch, drill & torch attacks
Defensive barrier of 26 active 1.5" diameter locking bolts surround all four sides of the door
Gear-drive off-set handle to drive thieves crazy

STYLE & FUNCTION

5-Spoke handle with 3 hardware options--Black chrome, 24K gold, and chrome.
New PREMIUM ACCESSORY DOOR PANEL to accomodate extra valuables on the door, including quick access to handguns!
All 25, 40, 50 safes come standard with our classy pull out jewelry drawer to better organize valuables. (N/A on 56 model)
We even include our best convection dehumidifier to help reduce moisture and protect valuables from damage.
Now available in 3 popular sizes: 25, 40, 50 size models with 10 high gloss automotive finishes, four (4) of which now come with feathered edges. 56 model has gray marble finish only.
Elegant external hinges provide for a wider door opening
4-in-1 Flex velour interior for long gun storage of up to 39 long guns, plus Liberty's new ACCESSORY DOOR PANEL to hold all kinds of valuables on the door panel. It's a great way to make use of space.
Clearview Wand Lighting system with auto on/off motion detector switch for easy viewing of valuables or documents
*Gun capacity may vary depending upon size of guns and scopes

Safe Interior: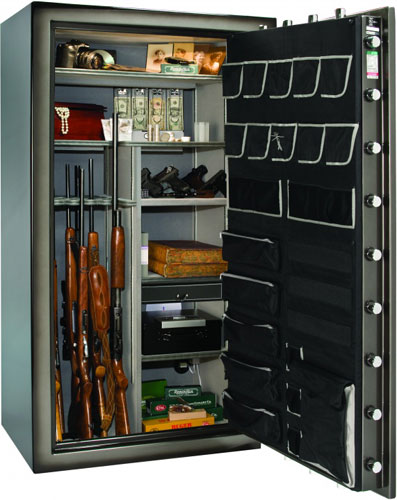 PLEASE NOTE: THIS SAFE IS AVAILABLE TO SHIP WITHIN 5-7 DAYS. DON'T WAIT MONTHS FOR YOUR SAFE, ORDER FROM ABLE'S TODAY!