This is a READY TO SHIP IN STOCK Liberty Safe. This Safe is for those who do not want to wait for a custom configured safe to be built.
Options Included on this Ready to Ship Safe are:
Burgandy Marble Finish
Black Chrome Trim
Dial Lock
Loaded Interior
72" x 42" x 30"
1565 lbs
---
There's nothing like a Presidential. Packed with fire and security features like never before, it's the best of the best.
Just ask Mr. Norquist of California. His Presidential survived the San Diego wildfires too. The Presidential packs a whopping 131,000 BTUs and 2.5 HOURS at 1200 degrees. It's massive 6" door not only protects from fire but also adds our "best in class" security features, including Liberty's drill snapping ball-bearing hardplate, gear drive mechanism with slip clutch and thicker 7 gauge steel. No wonder thieves shudder when they see one. A touch of class is added with Liberty's exclusive 5-point ships wheel handle, elegent hand applied beveled edge finishes and a LIGHTED velour interior with our newly trimmed ACCESSORY DOOR PANEL make it, well, Presidential!
FIRE PROTECTION

The best fire protection on the market: 131,000 BTUs and more fireboard than any competitor with 2.5 Hour fire rating @ 1200°F
The ultimate in fire protection. 5/8" layers of fire protection include 4 layers in the ceiling, walls and doorjambs with 2 layers of 1/2" and 2 layers of 5/8" in door
The best rated fire seal is used on Presidentials. Palusol™ Heat Activated door seal expands and sticks to door edge protecting contents from damaging heat and smoke

SECURITY

New GX-480 MONSTER MECH increases security with anti-punch and gear drive mechanism to thwart any thief. Just ask our Tyler, Texas customer who's PX-50 survived a 5 HOUR onslaught and they still didn't get in
Awarded the UL™ Residential Security Container burglary classification
Thicker 1.5" thick composite door with multiple layers of fireboard to keep out heat
Ball bearing steel hardplate snaps drill bits defeating lock drill attacks
Defensive barrier of up to twenty-six (count 'em) 26-1.5" diameter locking bolts fortify the door
Gear-drive bolt locking mechanism with slip clutch 5 point ships wheel handle thwarts break-in
UL Listed S&G™ Group II lock guards against lock manipulation

STYLE & FUNCTION

The ever-popular 5-point ships wheel SURETIGHT handle is plated in polished black chrome or 24K gold depending upon the finish
Rich pin-dot velour covers the full interior and patented 4-in-1 Flex™ interior
Automatic Clearview on/off interior lighting illuminates the interior to easily view valuables and documents. Comes with Liberty's exclusive Easy Outlet Plug
New for 2010--each Presidential comes with our classy pull out jewelry drawer to better organize valuables.
We even include the best convection dehumidifier to help reduce moisture and protect valuables from damage.
Classy styling is enhanced with Liberty's exclusive padded, diamond-sewn, pin-dot velour door panel
Available in three large-capacity sizes-25, 40 and 50-and in a variety of colors, including Marble Gloss!
Now included as standard feature on all Presidentials ever popular innovation--PREMIUM ACCESSORY DOOR PANEL. Saves shelf space and includes quick-draw holsters for handguns, zip pockets for valuables and a Cool Pocket to help keep papers and documents protected during a fire.
*Gun capacity may vary depending upon size of guns and scopes

Safe Interior: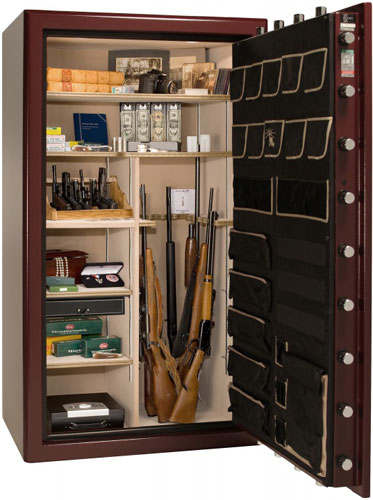 PLEASE NOTE: THIS SAFE IS AVAILABLE TO SHIP WITHIN 5-7 DAYS. DON'T WAIT MONTHS FOR YOUR SAFE, ORDER FROM ABLE'S TODAY!