Optimized Protection
You need protection that will give you true peace of mind. Rhino and Bighorn safes are optimized to give you the best mix of security and fire protection possible.
Up to 33% Heavier
One of the simplest ways to compare safes is to compare weights. Heavier safes have more fire protection, thicker steel bodies, or both. For these reasons you will find that Rhino and Bighorn safes are up to 33% heavier than the competition.
Thicker Steel Bodies
The steel body of your safe provides a barrier for flame and smoke and slows the transfer of heat to the interior. Thicker, heavier steel bodies give you a slower heat transfer and provide better security.
Residential Limited Lifetime Warranty:
Limited Lifetime Warranty
Free repair or replacement in the event of an attempted or actual Burglary attack
Free repair or replacement in the event of a Fire
Security Features:
Patented tungsten carbide drill plate
Patent pending industrial rivet design
Patent pending internal anti-tamper clutch
Exterior Features:
Heavy-bodied construction with 11-gauge steel body with 0.385" door edge

Laminated 1/4" plate with 10 gauge (0.135") door edge reinforcement

10 gauge (0.135") Corner reinforcements
Dished wheel handle
External Hinges
Fixed doorbolts on hinge side
Antiqued and clearcoated (powdercoat)
Fire Protection:
Interior View: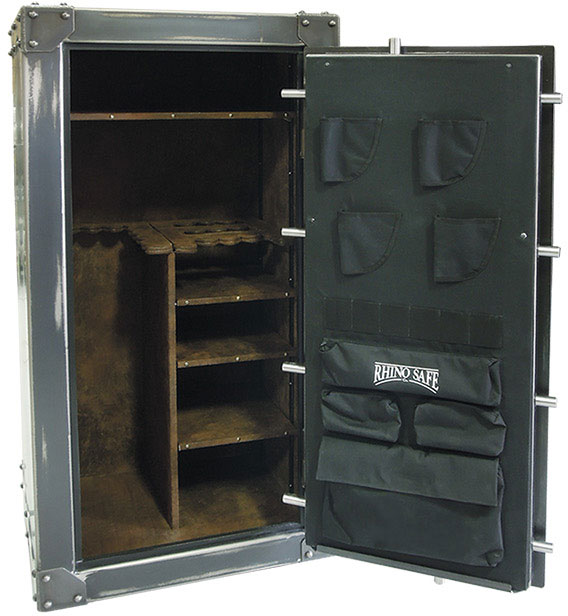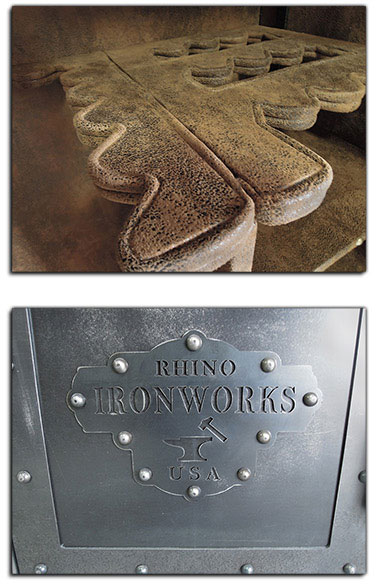 Four Different Sizes Choose Below
3027X 30"H X 27"W X 18"D - 8.4 Cubic Feet - 370lbs
6030X 60"H X 30"W X 25"D - 26 Guns - 26 Cubic Feet - 718lbs
6036X 60"H X 36"W X 25"D - 30 Guns - 31.3 Cubic Feet - 800lbs
7242X 72"H X 42"W X 27"D - 48 Guns - 47.3 Cubic Feet - 1100lbs
Available Options:
Safe Lock:
Safe Size: