---
Pro Series safes represent professional-quality products, built to the highest standards, to offer the very best protection for your most prized firearms and valuables. Browning and ProSteel are on the leading edge of gun safe innovation, and nowhere is this more evident than in the new Pro Series safes. A high-security Pro Series safe relies on exclusive features and construction methods, elevating security to the highest level ever raising the bar for the competition to try and match. Fire protection in the Pro Series is second to none. Precision manufacturing and finishing ensures a flawless final product that you will be proud to have in your home.
---
---
What sets the Pro Series line of gun safes apart from other Browning safes?
When you hear the word "pro" what comes to mind? Professional? Protection? In the case of a Browning ProSteel Pro Series safe, you get both. Pro Series safes represent professional-quality products, built to the highest standards, to offer the very best protection for your most prized firearms and valuables. And they areavailable only through the best,professional level dealers. Every Browning dealer has the tools and products needed to provide you a superior safe. Browning Pro Series dealers take this a step further with pro-level knowledge and expertise to match the exclusive Browning safes they provide.
It's all about choosing a unique type of gun safe dealer.
Pro Series Safes are offered through very select Browning dealers including Able's for the sole purpose of providing you with the highest quality products and service. Pro Series dealers are specially selected to:
Assist you in choosing the right gun safe.
Help make customization choices easier.
Provide easy delivery of your new gun safe in a professional and safe manner. And do it using the best in safe moving equipment and techniques to assure your safe is installed safely in your home.
Give you peace of mind knowing your Pro Series dealer is atrue professional carrying the appropriate insurance for handling your new safe.
Instill you with confidence to make your substantial gun safe investment by knowing your Browning Pro Series dealer is equipped to help you every step of the way.
From purchasing a safe that meets your specific needs, to delivery, and installing your new safe in your home. Pro Series safes from Browning and ProSteel offer you professional quality, protection and service. Be secure with The Best There Is.
---
OVERVIEW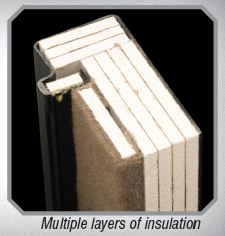 FIRE PROTECTION
Don't get burned by a lack of fire protection in your safe. Every safe manufacturer offers some type of fire rating; however, there is no industry standard test to ensure that all ratings are measured the same. The best way to compare fire protection is to look at the overall thickness of insulation. More insulation means more protection. Additional design features found in Browning ProSteel safes — like external hinges, a full inner-door plate, and the use of a Palusol® fire seal, ensure that you receive the best fire protection available.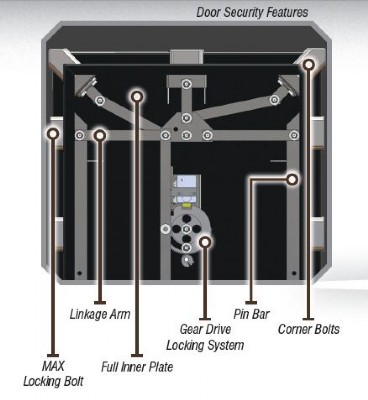 SECURITY
No other gun safe company can match the security found in a Browning ProSteel Pro Series safe. Browning's sturdy, formed door frames are reinforced around the entire perimeter of the door opening for a strong, rigid structure. Combine that with MAX Locking Bolts (Patent Pending) found only on the Pro Series line of safes, and you have up to 12 times more bolt surface area making contact with the stout door frame, resulting in a locking bolt that is four times stronger than traditional locking bolts. Add in Pry-Stop Corner Bolts or End Bolts, and you have the most pry-resistant safes available. Pinnacle and Prestige safes feature the Gear Drive Locking System. This system offers the security of cam and linkage systems, and features a gear system with 300 degrees of rotation, making it three times easier to operate than other mechanisms.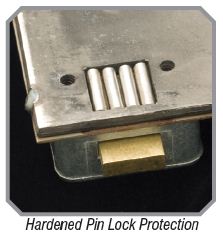 The heart of every safe's security is its lock and that's why all Pro Series safes feature mechanical locks from the industry leader, Sergeant & Greenleaf®. The lock is protected by two 1⁄4" hardened steel plates and features four 1⁄4" hardened steel pins designed to deflect or break drill bits during a drilling attack. These are just a few of the security features that help Browning ProSteel safes earn the UL® Residential Security Container Rating. From pry attacks, to punch attacks, to drill attacks and beyond, no other safe provides the security you will find in a Pro Series safe.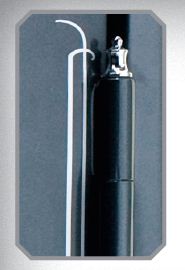 APPEARANCE
In addition to being a stronghold for firearms and other valuables, a Pro Series safe adds to the appearance of any room. A sleek automotive-grade paint finish graces the body, and is accented with details like decorative hinge caps, polished hardware and chamfered corners that set Browning ProSteel Pro Series safes apart from other safes.
CONVENIENCE
If there is one feature that makes a Browning ProSteel safe stand out from the crowd, it's convenience. No other brand of safe can match Browning's attention to detail when it comes to maximizing storage, organization and access inside the safe. All Pro Series safes feature the DPX® Storage System (U.S. patent #7,409,790). This feature allows you to store long guns, handguns and smaller items in pouches and pockets on the back of the door. Putting guns and gear on the back of the door makes frequently used items easier to access and frees up space inside the safe for more room in the gun racks and on the shelves. Adjustable shelving allows you to customize the interior for items of various sizes. Axis Adjustable Shelving, found on our best safes, offers a vast range of options. Heavy duty hinges allow a 180° door swing for better access to safe contents. A raised floor helps prevent scratches to gun stocks coming in and out of the safe. Additional little details like these put the Browning ProSteel Pro Series safes a step above the rest.
SAFE WARRANTY BREAK IN / ATTEMPTED BREAK IN / FIRE WARRANTY
Thieves will attempt to pound, drill, cut, hack, pry and torch their way into your safe. Flames will lick at a safe's walls until the steel is hot enough to peel the finish and warp the body. All the while the contents within the safe remain protected. Should the unthinkable happen, you'll be glad you chose a Browning ProSteel safe for protection from attack and fire, and the warranty that covers the damage to your safe from both. Every safe manufacturer offers a warranty, but like the safes they manufacture, the warranties are not the same. The warranty on a Browning ProSteel safe is on par with the best in the industry. If your Browning ProSteel safe is forcibly opened, Browning will replace or repair the safe free of charge. If your Browning ProSteel safe is attacked by forcible means, Browning will replace or repair the safe free of charge. If your Browning ProSteel safe is damaged in a house fire, Browning will replace or repair the safe free of charge. Should any of the above occur, ProSteel will pay to have a locksmith come to the site and open the safe so your valuables can be retrieved. Free of charge means just that. Browning will pay to have the damaged safe picked up and the new or repaired safe delivered to your residence, at no cost to you.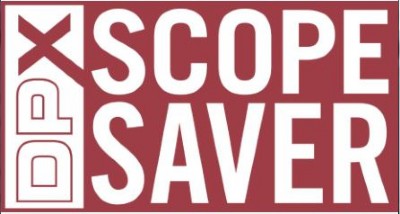 DPX SCOPE SAVER
LEADING THE WAY IN EFFICIENT STORAGE SOLUTIONS
The Scope Saver is neatly molded into the door panel and uses the space in the door to make room for optics mounted on long guns. This unique, one of a kind rack maximizes long gun storage and isolates and protects your optics from the usual bumps that occur when moving guns in and out of the safe. Look for the DPX Storage System and the exclusive Scope Saver on Pinnacle, Prestige and Deluxe safes.
A TRUE SPACE SAVER
Any way you look at it, a scoped long gun takes up the space of two guns in a safe, except with the Scope Saver. The Scope Saver takes advantage of space no other manufacturer has ever thought of using, the space in the door, to fit a scope. With the scope resting in the recessed area of the door, the gun takes up no more space than an unscoped long gun. And because the Scope Saver is integrated into the DPX door panel, these scoped long guns are right at your fingertips, easy to access as soon as the door swings open.
---