Swarovski Z6 Rifle Scope 59410, Z6 2.5-15x44, Ballistic Turret, Plex
MPN:

59410

UPC:

708026594106
Description
A slim rifle scope for mountain hunting. With this slim rifle scope, the 15x magnification with parallax correction and HD optic provides the hunter with the necessary reliability for shots at long distances. Particularly in difficult, rough terrain or hunting where weight and distance play a decisive role.
Hidden behind the elegant appearance of the Z6 is state-of-the-art technology that has revolutionized the practical benefit of a rifle scope. The larger zoom range and the greater eye relief allow for more flexibility, greater precision and increased safety when hunting.
The rifle scopes of the Z6 generation are now available in eight different types of main tubes. You will find a rifle scope perfectly tailored to your needs depending on what you intend to use it for.
Magnification: 2.5-15x
Ballistic Turret: yes
Objective lens: (mm) 24.2-44
Exit pupil: (mm) 9.5-2.9
Exit pupil distance (mm): 95 / 3.74
Field of view at m/100 m / ft/1000 yds: 16.0-2.7 / 48.0-8.1
Field of view (degrees): 9.2-1.5
Subjective field of view, apparent (degrees): 23.3
Dioptric compensation (dpt): -3 to +2
Transmission (%): 90
Twilight factor acc. to DIN 58388: 7.1-25.7
Impact point cord. per click (mm/100 m / in/100 yds): 10 / 0.36
Max. elevation/windage adjustment range (m/100m / in/100 yds): 1.8/1 / 64.8/36
Parallax correction: 50-8
Objective filter thread: M 46x0.75
Length approx. (mm/in): 356 / 14.02
Weight approx. (g/oz): 555 / 19.6
Central tube diameter (mm/in): 30 / 1.18
Reticle: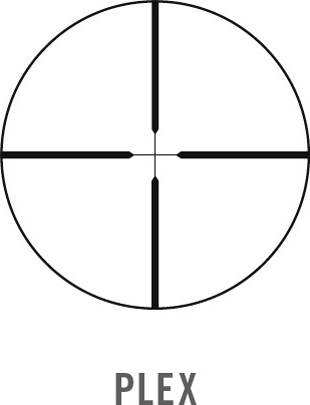 Special Deals
New Products - In Stock Now!

Note: Able's reserves the right to modify or change product information, quantity and pricing at any time without notice.
Many of our pictures are stock photos provided by the manufacturer, so please verify this picture accurately reflects the product described.
Images, descriptions, etc. do not necessarily represent the product in its entirety and are shown for examples only.
Not all items listed online are in stock in our Huntsville, TX retail store. Please call to verify availability.
**Free Ground shipping only within 48 contiguous states. May be subject to availability or other restrictions.