Nikon Rifle Scopes - Nikon Optics
Click here for our full selection of Nikon Rifle Scopes.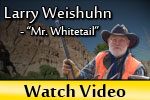 Because every hunter does things differently, Nikon rifle scopes are made for most types of hunting, including specialized rifle scope models for muzzleloaders, handguns, shotguns, and even a special reticle for turkey hunters. Nikon rifles scopes and will help you put the game in the bag, and with the rugged, waterproof, shockproof, and fogproof features of a Nikon rifle scope, you get maximum performance in all field conditions. Nikon rifle scopes are the best scope for the best price, with the sharpest and brightest image available.
---
The Nikon Buckmaster rifle scopes are famous among hunters, you simply won't find a better combination of critical light transmission, must have features, and rugged durability. With the Buckmasters family, there's a perfect match for every hunter and every hunting style, whether it's rifle, rimfire or blackpowder. These rugged, full featured scopes are designed as the perfect complement to the American deer rifle. They utilize positive, steel to brass 1/4 MOA windage and elevation adjustments, Nikon's exclusive Brightvue lens coating (provides 88% light transmission) and rugged, waterproof, shockproof and fogproof construction. All are matte finished to reduce glare while afield. And all incorporate the Nikoplex reticle for quick, easy targeting.

---
Nikon Encore rifle scopes are recoil proof to 500 S&W as well as centerfire cartridges. Additional features include hand turn reticle adjustments that features Nikon's interchangeable turret technology, fully multicoated lens, quick focus eyepiece and bullet drop compensator reticle. All are waterproof, shockproof and fogproof.
---
Nikon Monarch rifle scopes has a one piece main body of aircraft grade aluminum for durability, shock resistance, waterproof and fogproof integrity. Nikon designed its Monarch rifle scopes around a new optical system created to give shooters increased versatility and superlative performance with virtually any type of rifle, in any caliber, and in any imaginable hunting situation. While still maintaining the American-preferred 1" diameter main body tube. Precisely ground and polished lenses, with multiple layers of proprietary anti-reflective compounds. Featuring a fast focus eyepiece and adjustable objective lens for immediate, clear focus.
---
Nikon Omega Muzzleloading rifle scopes are a significant breakthrough in optical sights for hunters shooting muzzleloading rifles. An actual dedicated muzzleloading rifle scope, the new Nikon Omega 3-9x40 rifle scope with patent-pending BDC-250 reticle was created to help shooters take advantage of the full accuracy potential of their muzzleloaders. This compact 3-9x40 black powder beauty features five inches of constant eye relief to accommodate magnum charge recoil and a BDC-250 reticle that allows the shooter to accurately and ethically shoot out to 250 yards by providing instant aim points, taking the guesswork out of where to hold on the target at longer ranges. Nikon Omega rifle scopes are the first rifle scopes to offer a bullet drop compensating reticle designed specifically for muzzleloading loads and ranges, taking the guesswork out of where to hold on longer shots. The Omega scope is waterproof, fogproof and shockproof.
---
Nikon ProStaff rifle scopes have been huge hits with hunters around the world and for good reason. These rifle scopes from Nikon are tough, bright and accurate. Each rifle scope model brings unique features and benefits to hunters, and all scope models are fully waterproof, fogproof, and shockproof, feature 1/4 MOA click adjustments and multicoated lenses along with elevation adjustments and feature up to a maximum of 90% light transmission. The Nikon Prostaff Scopes are not weak on ruggedness or on precision.
---
Patented BDC 200 SlugHunter Reticle integrates unique, easy to see "ballistic circles" that provide instant aiming points and take the guesswork out of holdover at longer ranges. Bright multicoated optics deliver up to 92% light transmission. Five inches of constant eye relief keeps your brow safe even with the heaviest slug loads. Precise, Hand turn 1/4-MOA Click Adjustments get you zeroed in quicker and maintain your setting even with heavy recoil. 100-Yard Parallax Setting eliminates parallax for precise shooting. Quick Focus Eyepiece allows the shooter to instantly bring the reticle into sharp focus. The perfect fit for high caliber slug guns. Provides absolute confidence on the most extreme hunts.
---
---
Check out our entire selection of Nikon products below.