Ruger 10/22 Takedown Autoloading Rifle 11100, 22 Long Rifle, 18.5", Black Syn Stock, Stainless Finish, 10 Rd
MPN:

11100

UPC:

736676111008
Description
The Ruger 10/22 Takedown: A New Twist on the Legendary Ruger 10/22
Readily separated into two halves, the Ruger 10/22 Takedown offers a convenient transport and storage option for the popular Ruger 10/22. As reliable and accurate as every Ruger 10/22, the Ruger 10/22 Takedown makes it even easier to keep America's favorite rimfire rifle by your side.
The barrel and forend of the Ruger 10/22 Takedown are easily separated from the action and butt stock by pushing a recessed lever, twisting the halves, and pulling them apart. Reassembly is the reverse of takedown, and is quick and easy. The friction fit lockup of the assembly joint is simple to adjust, but will rarely need re-adjustment after the first assembly.
Despite the ease of assembly and reassembly, the lockup is secure and repeatable, ensuring an accurate return to zero - even when receiver mounted optics are used.
The Ruger 10/22 Takedown is shipped in a ballistic nylon backpack-style case that features internal sleeves that hold the separated rifle halves, and external pockets with MOLLE webbing that provide storage for magazines, ammunition, and other accessories. Multiple attachments points for the padded, single-shoulder strap offer different carrying options.
The 4.67 pound Ruger 10/22 Takedown is 37" long when assembled; each half is less than 20-1/4" when disassembled. Utilizing the standard 10/22 action, and provided with one ten-round rotary magazine, the Ruger 10/22 Takedown offers legendary 10/22 reliability in a new compact and portable package.
SPECIFICATIONS:
Mfg Item Num: 11100
Category: FIREARMS - RIFLES
Action: Semi-Automatic
Caliber: 22 Long Rifle
Barrel Length: 18.5"
Capacity: 10+1
Trigger: Standard
Safety: Cross Bolt
Length: 37"
Weight: 4.6 lbs
Stock: Black Synthetic
Finish: Stainless Steel
Rear Sight: Adjustable
Front Sight: Gold Bead
Length of Pull: 13.50"
Grooves: 6
Twist: 1:16" Rh
Backpack-Style Bag Included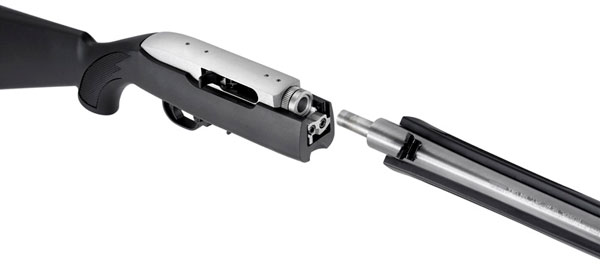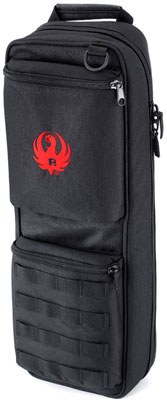 Special Deals
New Products - In Stock Now!

Similar Products - In Stock Now
Attention! Firearm Restrictions - See Below... ↓
* By Federal law, we can only ship firearms to an FFL licensed gun dealer.
* Add your selected firearm(s) to your shopping cart and proceed to check out.
* During checkout select a local Federal Firearms Licensed (FFL) Dealer that will accept the firearm.
* The firearm(s) will not be reserved until payment and a signed copy of a dealer's FFL have been received.

Please read How To Buy Guns Online before purchasing a firearm from us.
Return to manufacturer for warranty service. No Returns.
Note: Able's reserves the right to modify or change product information, quantity and pricing at any time without notice.
Many of our pictures are stock photos provided by the manufacturer, so please verify this picture accurately reflects the product described.
Images, descriptions, etc. do not necessarily represent the product in its entirety and are shown for examples only.
Not all items listed online are in stock in our Huntsville, TX retail store. Please call to verify availability.