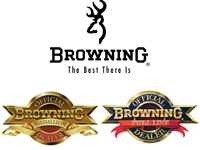 Browning...The Best There Is in shooting and hunting sports. Check out our full line of Rifles, Shotguns, Pistols, Clothing, shooting accessories, Safes, Knives, and Flashlights.
Find the products you want. The Browning line of products continues to grow, covering nearly every product requirement of the avid hunter, shooter and outdoors person. There are so many products that it can sometimes be hard to find exactly what you need.
625 Citori Series | 725 Citori Series | A-Bolt Series | A5 Series | BPS Pump Series | BT-99 Series | Citori Series | Cynergy Series | Gold Series | Maxus Series | Micro Series | Silver Series

The 22 Semi-Auto Rifles is one of the first autoloading rimfire rifles ever made, and one the most desirable. 
The innovative Browning A-Bolt Rifles delivers dependable, pinpoint accuracy that exceeds the stringent standards of the modern rifleman. 
The Browning BAR Rifles as a long standing tradition for achieving bolt action like accuracy in an autoloading rifle.
The BL-22 Rifles is perfect for both new and seasoned shooters.
The Buck Mark Rifles provide outstanding accuracy, dependable blowback operation, a crisp single-action trigger pull and magazines that are interchangeable throughout the Buck Mark line. 
Browning T-Bolt Rifles one of the most accurate, handy and easy-to-shoot rimfires ever produced.
The X-Bolt Rifles builds on the proven successes of past Browning rifles, and adds numerous improvements that  place the X-Bolt at the top of any side by side comparison.

22 Semi-Auto Rifles | A-Bolt Rifles | BAR Rifles | BL-22 Rifles | BLR Rifles | Buck Mark Rifles | T-Bolt Rifles | X-Bolt Rifles

Browning Buck Mark rimfire pistols lead the industry in quality, reliability, accuracy and variety. Every Buck Mark starts out as a solid piece of aircraft-grade 7075 aluminum alloy, and then is CNC machined to exacting tolerances. The crisp single-action trigger, hand reamed chamber, target crowned barrel and finely adjustable target sights mean the Buck Mark comes ready for fun straight from the box. The Ultragrip RX™ and Ultragrip DX™ represent the latest in grip technology. The finger grooves, laser stippling and stylish wave patterns combine to form an Ergonomic Interactive Surface (EIS) that puts your hand in the same place on the grip for every shot, resulting in more instinctual shooting and improved accuracy. The textured surfaces are comfortable and secure in any condition, while the narrow profile makes them perfect for all hand sizes.

When it was introduced early in the 20th century, the Browning Hi Power 9mm pistol was a revelation. It offered the perfect balance of handling, size and firepower, with an impressive 13-round magazine capacity. Over the years, the Hi Power has aged gracefully and continues to have a loyal following among those "in the know." Whether you are a novice or a seasoned shooter, you will appreciate the fine craftsmanship and function of these classic pistols, the sure heft of the machined steel frame and slide, and their natural pointability. Even with the double-column magazine, the grip is narrow to neatly accommodate nearly every hand size, and the single-action trigger provides a smooth, consistent pull. As reliable, accurate and easy to shoot as ever. Sure, there are many, many other full-size 9mm pistols on the market that are made to meet many different requirements. But in the end, every true firearm enthusiast should have a Hi Power in their collection. Having and shooting the best just means something.

John M. Browning developed the Model 1911 to fire the powerful 45 ACP cartridge. We developed it to fire the 22 L.R. and, after extensive testing and research, determined that 85% of the original size was ideal for the smaller cartridge. Put one in your hands and we know that you'll agree. The grip is comfortable even in large hands and feels equally at home in smaller ones. The lightweight alloy construction is anything but light duty. Own a little piece of history today.

There are many differences between a Browning ProSteel gun safe and the competition. And since buying a gun safe is a major investment, and since choosing the wrong gun safe can have dire consequences, we urge you to take the time to explore Browning's gun safe line-up and select the perfect safe for your needs. Browning ProSteel has over three decades of experience in creating the industry's leading gun safes and safe-related products. When you look closely you'll see that when all is said and done, you can trust a Browning ProSteel safe.

Browning ProSteel and Able's together has several different line-ups of feature-rich products to help you choose exactly the safe you want (see below).

Bronze Safes | Compact Safes | Gold Safes | Medallion Series | Platinum Safes | Safe Accessories | Select Series | Silver Safes | Specialty Safes | Sporter Safes | Tactical Safes | Pro Series Safes

Browning knife models are so diverse, there is one for every indoor or outdoor task you have at hand. Browning knives have taken care of skinning and dressing game and thousands of other jobs for nearly 40 years. Today's Browning knife line is certainly the best ever.

When you put a Browning knife in your pocket or hang one on your belt, you're packing a few ounces of sharp confidence that you know is going to perform, hands down, over the competition. A Browning knife also makes a much-appreciated gift because it bears the most respected name in outdoor products and can be trusted to take care of a myriad of camp chores and duties around the home. And with the Browning name on it, it will be less likely to get lost.

Nothing becomes more valuable than a strong, dependable light when the sun goes down and you are about half way through dressing and skinning an elk. At times like this a Browning head lamp or cap light is worth its weight in gold.

Browning has been in the flashlight business for decades -- and our lights have always been at the cutting edge of technology for specialized hunting performance.

Back in the day you needed a case for every gun you owned. In this day of massive steel gun safes -- like the Browning ProSteel lineup -- your needs in gun cases have changed. Now it's important to have a few excellent, high quality cases that offer improved levels of protection when transporting your gun. Today's cases have ways to protect your guns that were not even thought of in the past. Browning offers three main categories of protective cases. Click on the links at left to view them and select the model for your particular firearm.

The Flexible Gun Case Series offer rugged features like heavy-duty canvas fabric, leather, high grade padding materials and strong zippers. Most of these models include a rubber muzzle guard or heavily reinforced end cap for additional protection. The outer shells, padding and linings are both sewn and glued for added strength. As you read the specs you'll see they vary from the traditional to the very technical. Make sure you have one that will do the job you need done. Browning is proud to warrant the flexible cases against flaws in materials and workmanship to the original owner for ten years. (Most Browning flexible cases come equipped with a padlock to assist in the safe storage of firearms.)

Fitted cases make pure sense for the target shooter. You get ease of carrying and you get to bring along accessories at the same time. And there is nothing quite like having a case that matches the quality of your shotgun.
---
---
A Brief History of Browning
The business known as the Browning Arms Company was officially organized in Ogden, Utah, under that name in 1927, a year after its most famous namesake, John Moses Browning, died. In actuality, the Browning organization had been around as early as Jonathan Browning's arrival in Utah and the establishment of his gun shop in Ogden in 1852.
John Moses Browning has been called "the greatest firearms inventor the world has ever known." His first patent was granted on 7 October 1879. He is credited with 128 gun patents, and some fifty million sports and military weapons were manufactured from those patents during the forty-seven years he was an active inventor. Among his most famous guns produced were the 45-caliber pistol; the 1895 Colt Peacemaker machine gun; the Browning automatic rifle; a variety of 30- and 50-caliber machine guns used in World War II; and the Browning Automatic-5 shotgun first made in 1902 and still produced today.
The Browning Company still maintains its world headquarters in Mountain Green, Utah - located sixteen miles up the Weber River from the city of Ogden, where the Browning Museum at Ogden Union Station can be found. The company employs about 210 people at its Utah headquarters, which also includes research and some light manufacturing operations. Manufacturing is done in various factories in Belgium, Portugal, Italy, Japan, and Utah. Its sporting catalogs include rifles, shotguns, pistols, knives, fishing rods and reels, and outdoor clothing.