MAKE SURE NOTHING GOES TO WASTE
The best-tasting meat is the kind that's put on the table through hard individual work. Make sure every cut on every roast, chop, and steak gets the attention it deserves with a Browning Do-It-Yourself (D.I.Y.) Butcher Kit - the kitchen knives that are a cut above the rest.
The Kit includes: 7 1/2" filet knife, 6 1/2" butcher knife, 5 1/2" boning knife, 4" skinning knife, 3 1/2" lockback drop point folding knife, full-size sharpening steel, 3 1/2" game shears, and a Night Seeker LED cap light. The entire Kit is cased in a compartmented nylon tool roll.
Tools in Kit: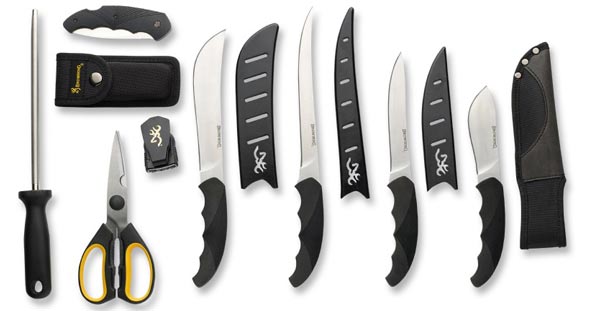 Specifications:
Description: Browning DIY Butcher's Kit
Type: Multiple Tool Field Butcher's Kit
Blade Composition: 420 Stainless
Handle Material: Textured Injection-Molded Rubber
Sheathes: 3 Polymer Blade Protectors (Filet, Boning, Butcher); 2 Nylon Belt Sheathes (Skinning, Folding); Black Nylon Compartmented Tool Roll for Whole Kit